News
Sophie Kneeshaw completes PhD degree
Edinburgh, 23 March 2016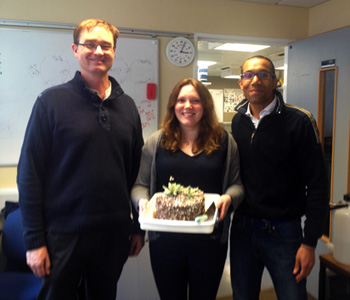 Many congratulations go to Sophie Kneeshaw who on Wednesday 23 March successfully defended her PhD thesis!! Sophie was funded by the Biotechnology & Biological Sciences Research Council (BBSRC) and in her thesis work identified novel activities of thioredoxin enzymes that regulate plant immune responses. Sophie will remain in the Spoel Research Group as a postdoctoral researcher funded by the Wellcome Trust and ERC.
Many thanks to the internal and external examiners Karl Oparka (University of Edinburgh) and Jean-Philippe Reichheld (University of Perpignan), respectively, for their time and contribution!!
To find out more about some of the thesis work of Sophie, take a look at her publication and outreach activities on our website.