News
James Furniss completes PhD degree
Edinburgh, 11 December 2015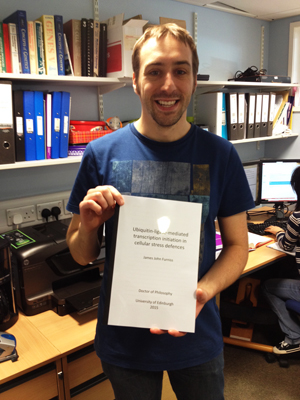 Many congratulations go to James Furnisss who on Friday 11 December successfully defended his PhD thesis!! James was funded by the Biotechnology & Biological Sciences Research Council (BBSRC) and in his thesis work explored the actions of several ubiquitin ligases in regulating transcription initiation during cellular stress defences in plants and yeast. James has now taken up a position in the lab of Prof. Karen Halliday at the University of Edinburgh.
Many thanks to the internal and external examiners Justin Goodrich (University of Edinburgh) and Ari Sadanandom (Durham University), respectively, for their time and contribution!!
To find out more about some of the thesis work of James, take a look at a previous news article on our website.