News
Rumana Keyani completes PhD degree
December 2013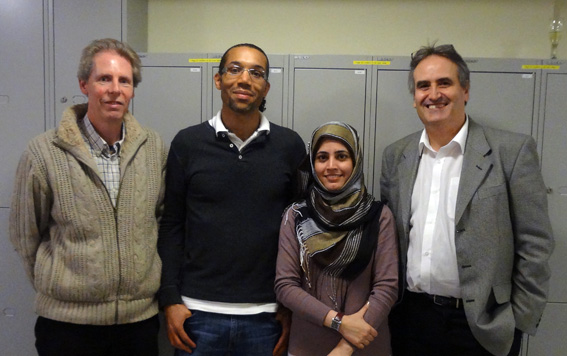 From left to right: Gary Loake (supervisor), Steven Spoel (supervisor),
Rumana Keyani, Luis Mur (external examiner).
Many congratulations go to Rumana Keyani who on Thursday 12 December successfully defended her PhD thesis!! Rumana was funded by the Higher Education Commission of Pakistan (HECP) and in her thesis work explored the actions of several oxidoreductase enzymes in redox-mediated plant immunity. She revealed new mechanistic roles for S- nitrosoglutathione Reductase (GSNOR) and Thioredoxin-like enzymes in plant immune signalling. Rumana will now return to Pakistan and soon take up a position at a HECP supported university.
We thank the internal and external examiners Andrew Hudson (University of Edinburgh) and Luis Mur (Aberyswyth University), respectively, for their time and contribution!