Members in focus...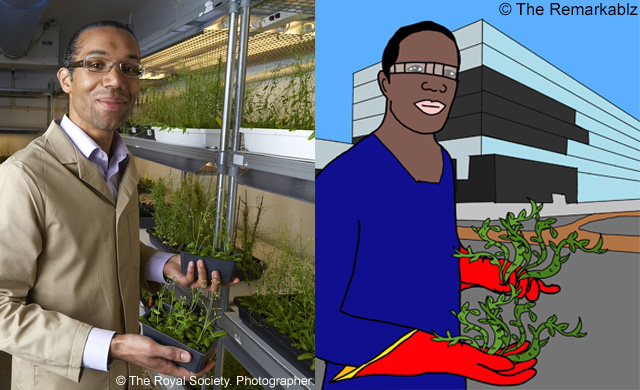 Image credits: Debbie Rowe (left), The Remarkablz (right)
Dr. Steven Spoel
Principal Investigator & Head of Molecular Plant Sciences
Precise regulation of gene expression is vital to the survival of all organisms. Deregulation of gene expression is the underlying cause of many human diseases, including various types of cancer and immunodeficiency. Moreover, agricultural developments aimed at meeting the global increasing demands for food, bio-fuels, and pesticide free practices are restricted by our limited knowledge of gene regulation in plants.
Steven's laboratory aims to understand the mechanisms that govern the activation of gene expression by gene activators. We study how gene activators perceive signals, rapidly find sites where they are needed on the DNA, establish dynamic expression of genes, and function within dynamic regulatory gene expression networks. To answer these fundamental scientific questions we study the plant immune response and the yeast amino acid starvation response. These systems lend themselves particularly well to studies of gene expression, as their activation is associated with rapid and dramatic reprogramming of many genes.

Qualifications
05/2008 Ph.D., Duke University, USA.
05/2002 Master of Science (M.Sc.), Utrecht University, Netherlands.

Career Summary

03/2020 – current  Professor of Cell Signalling and Proteostasis (University of Edinburgh)

08/2018 – current  Head of Institute of Molecular Plant Sciences (University of Edinburgh)
03/2015 – 07/2020 Reader / Associate Prof. in Plant Sciences (University of Edinburgh)
10/2010 – 09/2018  Royal Society University Research Fellow (University of Edinburgh)
10/2008 – 10/2010 EMBO Long-Term Fellow & Netherlands Science Foundation Rubicon Research Fellow (University of Edinburgh)
05/2008 – 10/2008   Post-doctoral Research Associate (Duke University, USA)
08/2002 – 05/2008   Ph.D. Developmental, Cell and Molecular Biology (Duke University, USA)
08/1997 – 05/2002   Master of Science (MSc) (Utrecht University, Netherlands)

Committee memberships
* GATSBY Plant Science Advisory Board (2020-current)
* Chair of GARNet Advisory Committee (2017-2020)
* GARNet Advisory Committee (2016-current)
* Graduate School Committee, School of Biological Sciences (2015-2018)
* Research Committee, School of Biological Sciences (2015-2018)

Major prizes, awards and fellowships
* ERC Starting Grant (2016)
* BBSRC New Investigator Award (2014)
* Early Excellence in Science Award (EESA) from Bayer Foundation (2013)
* Royal Society University Research Fellowship (2010)
* New Phytologist Tansley Medal for Excellence in Plant Science (2009)
* European Molecular Biology Organization (EMBO) Long-Term Fellowship (2008)
* Netherlands Science Foundation Rubicon Fellowship (2008)
* Harold Sanford Perry Prize for best PhD dissertation (Duke University, USA) (2008)
Orchid ID: https://orcid.org/0000-0003-4340-7591
---